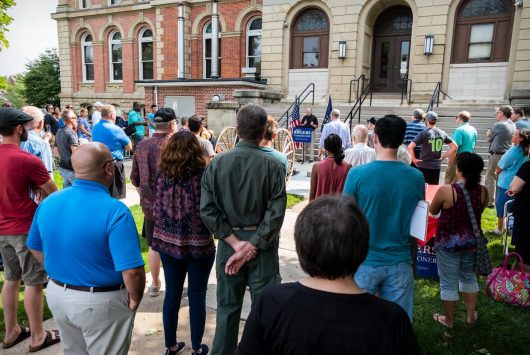 What Is a Commissioner?
The Elkhart County Board of Commissioners is made up of three commissioners, each elected from three seperate districts and voted on by the entire county. The Board of Commissioners serves as the legislative and executive branch of Elkhart County Government. Appropriations, contracts, ordinances and more flow through this body. County Departments such as County Highway, Community Corrections, etc. all are overseen by the Commissioners. This position is an important one – one that requires experience, dedication and a guiding philosophy of governance.
A Tradition of Service...
For over 33 years, Brad Rogers has served the people of Elkhart County. As your elected Sheriff, he managed the largest office in Elkhart County government. After reaching his term limits, he continues to serve with the Sheriff's Office as the Corrections Division Commander with the rank of Captain. Captain Rogers possesses the critical leadership, management, and knowledge needed to serve as your Elkhart County Commissioner from District 2.
As a law enforcement professional, as your sheriff, Brad has served you.
Brad is a graduate of Goshen High School and earned a Bachelor of Science degree in Criminal Justice from the University of Evansville. He graduated first in his class from the Indiana Law Enforcement Academy in Plainfield – the first member of the Elkhart County Sheriff's Office to do so.
Photo – Brad as Sheriff speaking with supporter – 2011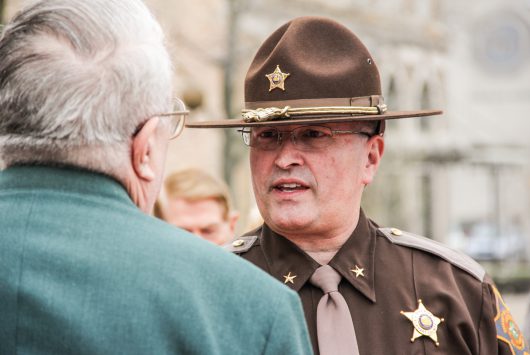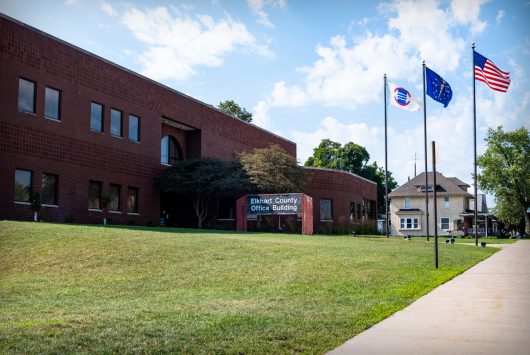 Community Involvement
Heavily involved in our community, Brad served as Scoutmaster for Scout Troop 12 of New Paris for nearly 10 years and is currently the Chair of the Troop Committee. He is a past member of the Oaklawn Board of Directors and currently serves on the boards of; The New Paris Chamber of Commerce, The Post Youth Center in Goshen and the Center for Community Justice in Elkhart. He is the chair of the Elkhart County Reentry Initiative. 
As a member of our community, Brad has served you.
He is a member of Bible Baptist Church of Wakarusa. He is also a life member of the Indiana Sheriff's Association and a life member of Gun Owners of America. In the early 2000s he served as the interim director of Elkhart County Emergency Management at the request of the Elkhart County Commissioners. He has donated over 25 gallons of blood. Brad received the Elkhart County Commitment to Service Award in 2005 and the Circle of Corydon from the office of the Governor of Indiana in 2019. He is married to his wife Susie (who serves on the Elkhart Township Board) and has three adult children, Benjamin, Abigail, and Ethan. In November of 2020, he received 68% of the county-wide vote and was elected to serve on the Board of Commissioners. He took office on January 1st, 2021.