The Oath of Office
The Oath is the foundation of all elected offices in our great nation. I will do my very best to ensure the county follows our Indiana and United States Constitution in all of its policies and decisions.  I have a proven record of this commitment as a Constitutional Sheriff. I have and will take my Oath of Office seriously.
The first question any commissioner should ask when developing a law or policy should be, "Is this constitutional?" 
Support Our Sheriff
As a commissioner, I will work to provide policy
support to our Sheriff
against Federal encroachment by 'ABC' agencies and interpose for our citizens when federal and state government acts outside the bounds of the Constitution.
As a former elected Sheriff, I also understand the pressures and manpower requirements of ensuring law enforcement service to one of the state's largest counties. I will work to ensure that our local Sheriff's police and corrections officers receive the resources needed to do their job.
Smaller, Efficient Government
I will work for less government and more freedom on land use. I will continue to be a strong advocate for individual personal and property rights. I am a supporter of First and Second Amendment rights in zoning and land use issues. I support the guarantees laid out in the Fourth Amendment and Indiana Article 1, Section 11 guarantees of being secure in your houses, possessions, and papers. I believe this extends to land use policy and administrative inspections. 
I will encourage more development and affordable housing through reduced regulations and expeditious approval of building permits.
We must have common sense enforcement of ordinances.  I will be reviewing penalty clauses set by the county to ensure they are reasonable and mesh with state law.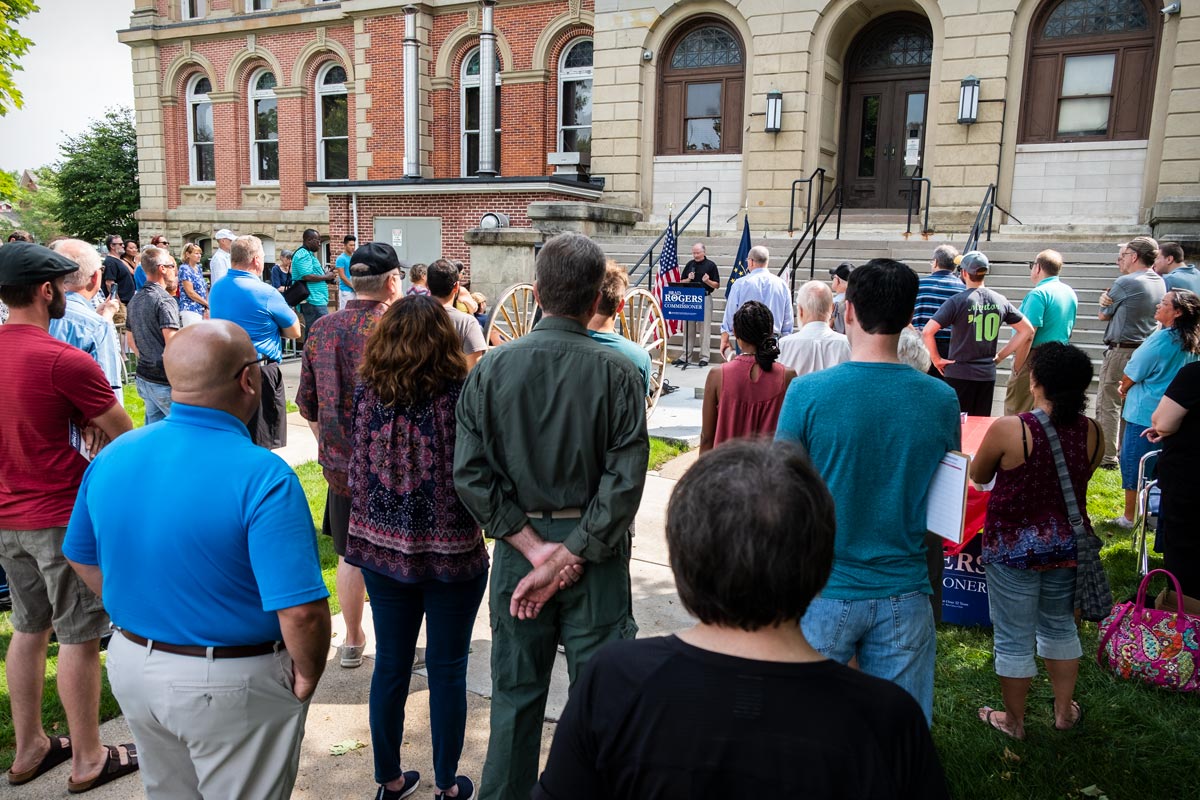 Supporting Proper County Infrastructure
I supported the removal of the old jail/security center and juvenile detention facilities in Goshen.  I do not support giving the property away without exploring all options, as the county may need to build on this property.  If the county does not build, I would support the selling of the property for market value in order to be good stewards of taxpayer resources.
I recognize the need to have a unified County Courts and office complex. This will allow much greater efficiency and ease of access by bringing the high number of scattered county government buildings into a singular geographic area.
In the past, information technology (IT) has languished in the background. As your commissioner, I will work to ensure it is given priority status. This will result in additional transparency and the public will have improved access to public information.
I recognize the importance of the county's oversight of veterans' services and county-maintained memorials.  I will work to keep this principle high for those who have served our country and those who have given the ultimate sacrifice. 
Furthering Criminal Justice Reform
I will support alternatives to incarceration in the county criminal justice system for non-violent offenses, by supporting drug courts, veteran's courts, community corrections and electronic monitoring, so that persons who make mistakes can still maintain a job and provide for their families. It behooves the county to remove barriers for previously incarcerated persons so that, if they choose to do so, they will be more likely to succeed. Removing barriers prevents us from building bigger jails and prevents us from being victims all over again.
I will work to reform and supervise Elkhart County Community Corrections to ensure modernized, professional standards.
Get In Touch With Brad
Establishing Trust in County Government
I will work to bring trust and excellence in public service back to county government. What has your experience been with county government?  Why are you not made to feel that county government is serving you?
County government should be here to serve you. I will work internally to bring people and departments together to focus on you, the residents of Elkhart County.
As shown in the past, I will continue to be an accessible elected official through social media, phone, email and in-person appointments.  I will also meet with you at your place of business or residence as the need arises.
Fiscal Responsibility
I am a fiscal conservative and have decades of proven experience in budgetary management as both a county employee and as an elected Sheriff.
I will push to hold contractors and utilities responsible in large construction projects where they cause county delays and therefore more county expenditures. 
I will take a thoughtful and cautious position on TIF (Tax Increment Financing) districts and redevelopment since there are very real budget constraints that TIF addresses. TIF should not be used to support a specific private company's interest (cronyism). Rather, TIF should be used to address general infrastructure to benefit our community as a whole.
A Focus on the County's Needs
I will encourage and support less Federal influence. We must take careful stock of each project before considering taking Federally offered grant money with strings attached. 
I will support the doctrine of Home Rule (local government control instead of state and federal control) as a general policy. The exception would be where it may undermine constitutionally protected rights, such as the 2nd Amendment.
Learn More About Brad & His History of Service
Brad Believes…
The United States of America is a Republic, based on the rule of law.  

Government was created to defend our individual rights and liberties. This was enshrined in the promise of the U.S. Constitution.  The oath of office, required by the Constitution, is the promise by each elected official to uphold those rights.

Federal government is out of control, often without a face to hold accountable.

Local and state government can hold the line by saying no to an out-of-control federal government, standing against tyranny, on behalf of its citizens.  The board of County Commissioners are the legislative and executive branch of county government. The County Commissioners can protect peoples' rights at the county level. 

As a man of faith, he is a respecter of others' beliefs and the First Amendment to the U.S. Constitution.

Working with Republicans, Democrats, Libertarians and Independents on areas of agreement will benefit our community.

Unashamedly Pro-Life under any circumstances.